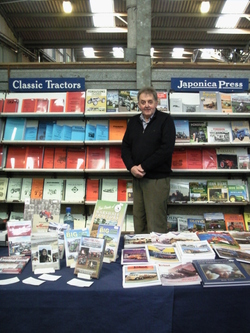 It's eighteen years since Stephen Moate started the specialist distribution company Classic Tractor Books . His range of - and knowledge about - books and DVDs on tractors, farm machinery, earthmoving. logging and allied subjects are unmatched in the UK.
It's also ten years since he launched the companion publishing company Japonica Press. The ex dairy farmer named the company after his favourite cow.
Stephen manning his stand at the Malvern Tractor Show, spring 2008.