Steven Vale is moving on to his third DVD for Old Pond - before the first (Massive Earthmovers 3) has been released. This time he has taken director Jonathan Theobald to record some of the biggest machines to be found in Europe's demolition business. The following photographs have all been taken by Steven.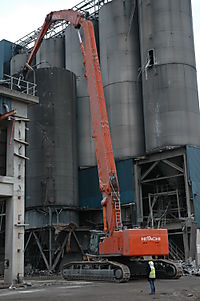 This 50 metre version (left), owned by Euro Demolition, was filmed in action on 68 metre storage towers in the Port of Rotterdam.
Based on a modified Hitachi ZX870, it was converted to a demolition machine by Dutch-specialist STC. The result is a 165 tonnes machine that is capable of carrying a 5 tonnes top at full height.
This is a machine that is easily capable of cutting through the towers like a can opener.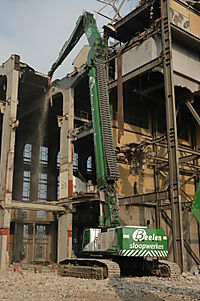 Steve's  visit to Holland also included a first-hand look at the largest demolition project in the Benelux – a four-year contract to pull down a disused power station.
Located on the banks of the River Maas in the Southern Province of Limburg the project is handled by one of Holland's largest demolition contractors - Beelen Demolition.
A big project requires big machines and the company brought two of its giants to the site.
The first is a modified Cat 395C (right), which two years ago was the very first European machine to boast a working height in excess of 60m.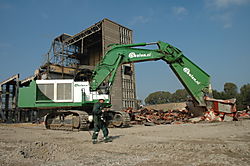 Next to it is a brand new Hitachi EX1200 (left). However, even though this is one of the largest hydraulic excavators in the country it is not the Hitachi excavator that is the centre of attention here but rather the scrap shear - the world's largest rotating version.
One of just a handful ever made, and one of the only two in Europe, the US-made Genesis GXP 2500 weighs close to 26 tonnes. This massive shear is easily capable of cutting through the thickest of steel beams at the site.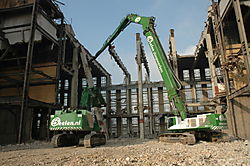 There is nothing that can prepare you for the sight of these two £1 million+ machines working side by side (right). This is extreme demolition at its very best.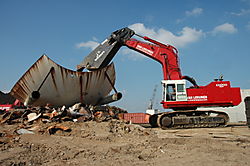 The second of these massive shears (left) is currently earning its keep cutting up a number of old oil refineries at the Port of Moerdijk, to the south of Rotterdam.
Purchased from the US where it cost its owner Van Leeuwen Katwijk the best part of US$ 400,000, the shear is fitted to a used Hitachi EX1200 sourced from Spain.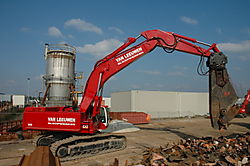 The machine is working alongside a brand new Cat 385C fitted with the largest scrap shear currently available from Verachtert (right).
Called the VHS 70/3, although the 9 tonnes version is no match for the Genesis, it still commands respect.