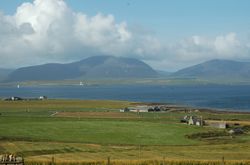 Just back from a week's holiday in Orkney, first visit to this collection of islands off the north coast of Scotland.
This is the view from Ramsquoy farm where Mona Swannie runs a bed and breakfast while husband Jim farms with their grandson.
Ramsquoy is in the parish of Stenness on Mainland, the largest of Orkney's seventy islands. Across the sound is the low-lying small island of Graemsay and then the hills of Hoy.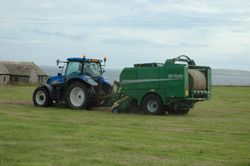 The hay and silage harvest is in full swing just now. This baler was at work at Gearsan in the parish of Deerness at the east of Mainland. In three weeks' time it will be the turn of the barley harvest. Everywhere we went we saw large rectangular fields of grass or barley.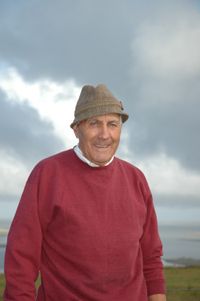 The grass and barley are for livestock feed and bedding. On some islands such as Rousay we saw more sheep than cattle, but on Mainland it was cattle that were more numerous.
Jim Swannie is a beef producer. He runs three holdings, the Ramsquoy one which he owns and two others which are rented. He stocks about a hundred breeding cows and runs four bulls with them, currently two Simmental and two Charolais.
The cattle are grazed outside from the end of April to the end of October after which they are housed to prevent the grass becoming poached. This is when adequate supplies of silage and barley become essential.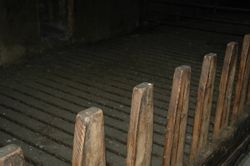 For thirty years Jim has reinvested all his earnings on the farm. One of the results is this highly efficient slatted housing unit. Another is his water supply: from a spring on high ground he takes water to troughs in all areas of his farm by piping buried four feet deep.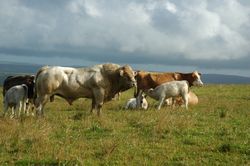 The cows have roughly a ten-year breeding life and Jim breeds his own replacements. The beef is supplied to Orkney Meat Ltd, established in 1982 in Kirkwall, the main market town of Orkney. It is marketed under the Orkney Island Gold banner.
The Charolais bull and followers are standing in a field which several years ago was rough heather but is now well on its way to becoming good grazing. Jim re-seeds his grass every two to three years.
It was really heartening to see a side of agriculture that appears to be prosperous and expanding, keeping people and livestock on the land.