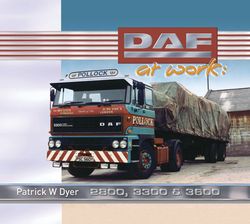 DAF at Work: 2800, 3300 and 3600 by Patrick W Dyer. Hardback book 210 x 265 mm (landscape), 144 pages including approx 190 photographs. ISBN 978-1-906853-37-2. Now in stock at Old Pond at £19.95.
Truck enthusiasts who have read Patrick Dyer's book Scania at Work: LB 110, 111, 140 & 141 will know what to expect - a wealth of photographs, some from the manufacturer, some from enthusiastic amateurs, supported by interesting and informative captions as well as longer introductions which set the scene for each model.
Patrick begins by considering the early history of the company which, although now owned by the American company, PACCAR, and with links to Leyland, has its roots firmly in Eindhoven, Holland.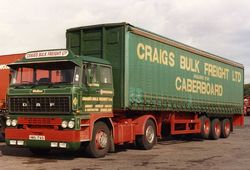 The bulk of the book is given to the 2800 and 3300 ranges. The author goes carefully through the steady technical progress made by DAFtrucks and shows how, with its attention to driver comfort and economy of operation the marque became a favourite for a wide range of trucking operations.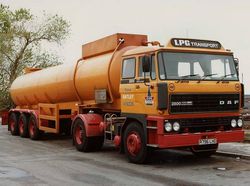 The company started truck manufacture relatively late, but in the early 1970s it took an industry lead with its flagship 2800. The 'Supercontinental' version, with its wide tilt sleeper cab with two full-size bunks and its powerful 11.6-litre DAF engine was a natural for long-haul work.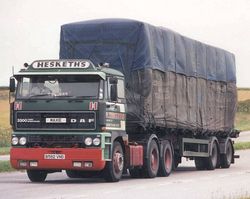 The successor 3300 and 3600 models took the company into the 1980s, running alongside Scania and Volvo as a long-distance driver's favourite. The 330 hp engine suited it for the heavy-duty special transport that became a feature of the period. This book is rich in photographs from the 1970s and '80s. 
Patrick W Dyer works in the automotive industry and is based in Essex. He has written two books for Old Pond: the Scania title mentioned above and Know Your Trucks, a pocket-sized introduction for novice enthusiasts.