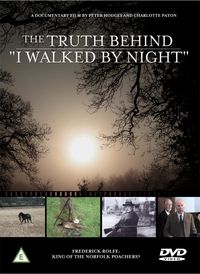 The Truth Behind 'I Walked by Night' by Peter Hodges and Charlotte Paton, DVD approx 60 minutes. Now in stock at Old Pond.
In her book The King of the Norfolk Poachers Charlotte Paton described the results of her search for Frederick Rolfe's real life, comparing it with the account published in Lilias Rider Haggard's book I Walked by Night. In this companion DVD Charlotte shows how she went about her search and interviews people associated with Rolfe and his world. There are also memorable scenes of poaching skills.
Documentary-maker Peter Hodges is an award-winning sound designer with over 40 years experience working in television and Film. His programme has many memorable and beautiful scenes in which Rolfe's immersion in the countryside is evoked.
The King of the Norfolk Poachers was shortlisted in the biography and memoir section of the 2010 Eastern Daily Press-Jarrolds book awards. Also shortlisted was another of Old Pond's recent titles, the photograph book Bells Beneath the Sea.