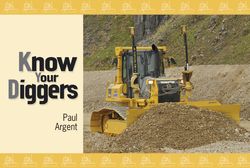 Know Your Diggers, Paul Argent. Paperback, 104 x 155 mm with 96 pages inc. 45 photographs. ISBN: 978-1-906853-81-5. Now in stock at Old Pond £4.99.
This selection is designed to satisfy the curiosity of people interested in the plant and machinery they commonly see as they travel around the UK. Paul Argent's selection includes diggers, excavators, backhoes, rollers, cranes, demolition machines, loaders, dumpers and a road planer.
The author shows products from most of the major manufacturers such as JCB, Caterpillar, Volvo, Case, Komatsu, Hitachi, Kubota and Liebherr. Each of the examples is seen on site in a full-page photograph. Paul's accompanying text gives details of the class of machine represented, the work for which it is suitable and some technical specifications.
The range of machinery is wide, offering novice enthusiasts a chance to get to grips with many different types, a springboard to a deepening interest in the plant and machinery at work every day in Britain.
Paul Argent is a specialist photographer and journalist based in Ruthin, Wales and has worked in the construction industry for 24 years. He contributes regularly to Earthmovers and other magazines.
The machines in the book are:
Barford SXR6000 - Bell B50D - BG Paver - Bomag BW120 - Bomag landfill - CaseWX165 - Caterpillar 318DMH - Caterpillar 973 - Caterpillar 313D - Caterpillar 966H - Caterpillar D6 - Doosan DT160 - Fiat Allis FL7B - Hamm HD90 - Hamm HW90 - Hitachi EGR70 - Hitachi ZX225 - Hitachi ZX280LC - Huddig 1260B - JCB 3CX - JCB JS360 - JCB Robot - Komatsu D61PX - Komatsu PC130 - Komatsu PC210 Longreach -  Komatsu PC450 - Kubota KX080 - Kubota U10 - Liebherr A900CZW – Liebherr LRB155 - Liebherr R944C - Liebherr R984C - Manitou MRT1440 – Mastenbroek - New Holland B115B - Pegson Crusher - Takeuchi TB250 - Terex HR32 - Terex PT60 - Thwaites 1.5t - Thwaites 10t - Volvo A25D - Volvo BL61 - Volvo EC20B - Volvo ECR235CL.
See here for more information about the Know Your series. A wide range of DVDs featuring earthmoving and allied machines is to be found here.