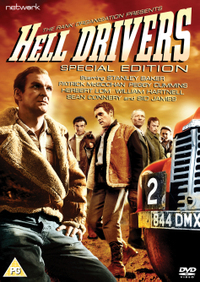 Ex-con Tom, played by Stanley Baker, has no licence and no option but haul ballast for Hawletts in this 1950s feature film. 'Twelve runs a day or you're sacked' is the threat that hangs over the drivers as they speed their Dodge trucks along narrow lanes.
Stanley Baker is joined by other greats of British film and television: Patrick McGoohan as the violent No. 1 driver and William Hartnell as the corrupt manager. Sid James, Alfie Bass, Gordon Jackson, David McCullum, Peggy Cummins and a very young Sean Connery all give support.
The corruption soon has the men at each others' throats, until they are using their trucks with murderous intent.
First released in 1957 (black and white), approx 104 minutes plus special features - which deal mostly with Stanley Baker - and a viewing notes booklet. We have stock for sale at £14.95 inc VAT. More ...
In their November issue, the magazine Classic and Vintage Commercials ran a Readers' Memories special feature celebrating the fiftieth anniversary of this film. One article is headed; 'Albert Hall took over as fleet engineer at Drinkwater shortly after Hell Drivers was filmed ... and some of the Dodges were still around.' Classic and Vintage Commercials magazine