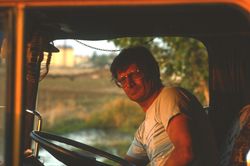 Following the publicaton of Robert Hutchison's Juggernaut in paperback, Graham Davies's daughter Angela has kindly supplied the following notes about her father, the Whittle International trucker who in 1986 took Robert on his fact-finding trip to Saudi Arabia.
Graham continued to travel until 1989 on international long-haulage journeys to countries such as Greece, Athens, Yugoslavia (before the conflict), Bulgaria, Romania, Czechoslovakia, Morocco and Turkey. His favourite trip was to Athens, from where he often brought back black pottery of ancient Greece.
 
In 1989 Graham decided to settle more at home and returned to Radio Cabs as a taxi driver, the job he did prior to becoming an international lorry driver in 1974. He also worked in his garage until all hours of the night as he loved to take on challenges of renovating minibuses and cars with finesse.  He was often called upon by other taxi drivers to repair their vehicles.
 
During the later years at Radio Cabs, Graham had endless pleasure from his school runs every day with Woodland's Special Needs school children and he was loved and respected by all at the school. 
 
In 1997, Graham and his wife Madeleine planned for their future and sold their long-time family home in the middle of Blackpool and moved to a bungalow in the Bispham area to be near the promenade. They bought and toured in their caravan to various locations in England getting fulfilment from each and every one of their holidays.
 
Graham retired in 2001 at the age of 65, although after a good few months was bored and returned to work part-time with Lancashire Ambulance, escorting patients to and from medical appointments.  His retirement was hindered and short lived due to ill health. He was diagnosed with a lung disease related to asbestosis from working as motor engineer in the 1950s, and this was followed by a diagnosis of prostate cancer.  Graham got his affairs in order and built his dream – extending his garage and building a train track in the loft. He mended the side of his house and even changed the cylinder head gasket on his car a few weeks before he passed away in June 2003 aged 66. Graham had a passion for trains and his car which he sadly missed in his last days. He also loved to listen to the birds chirping away in his back garden.
 
Graham was a great husband, father of five children, father-in-law, doting granddad to 12 grandchildren including one great grandchild.  He was loved and respected by all who knew him.  He was a man of strong character who enjoyed his family and time at home in his bungalow.