'Luzenac talc for the world' is the catch-phrase of Rio Tinto Minerals' Pyreneean talc mine north of Ax-les-Thermes in the Ariege region of south-west France. We have been filming there courtesy of Alexander Kristen, the mine's general manager and Laura Jones, Rio Tinto's European communications manager. See blog 4 May 2009 for DVD (Massive Earthmoving Machines Pt 4) details.
The softest of all minerals, talc is 'a perfectly stable and chemically inert hydrous magnesium silicate' that has a laminar structure. The weak binding of the laminae (sheets) allow them to slide over each other, making the rock so soft.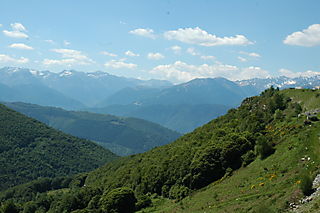 The mine is in a staggeringly beautiful landscape, at about 1700 metres, with vultures wheeling on the thermals and, at this time of year, carpets of flowers.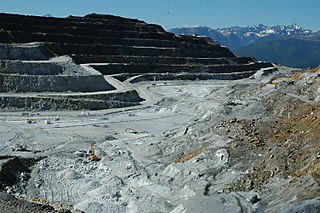 Nothing prepares you for the whiteness of the mine (right). The deposit lies in a deep, wide cleft slanting diagonally down between other rocks.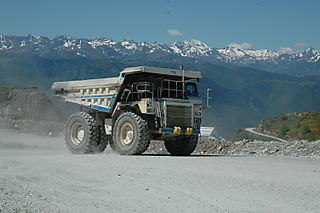 The deposit has been mined here since the early 19th century. Until recently the company had the policy of repainting in white all its vehicles, like this Cat 777C (left).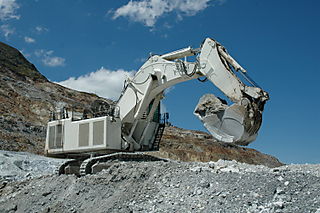 The Liebherr 994 Litronic (right) makes short work of shifting waste material.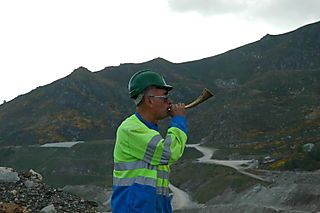 At the end of our first day (left), high above the mine, the warning is sounded for a blasting.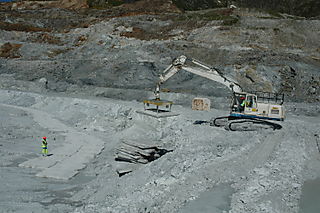 Down on the wet talc concrete slabs are used to make movable roadways. The transporter (right) is a Liebherr 942.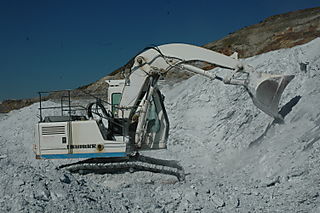 The talc is carefully taken by small machines like this Liebherr 900 (left) and separated into different shades and qualities.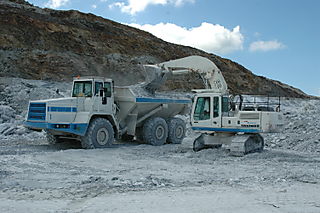 Articulated dump trucks like this Volvo (right) are used to move talc to the stockpiles above the crusher ...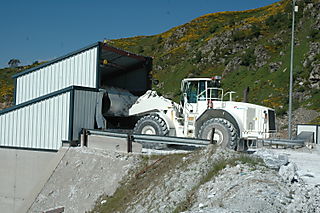 ... where a Cat 98G (left) selects from eleven grades.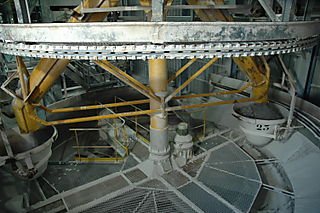 Inside the loading shed (right) the buckets are filled for transport down from the deposit at Trimouns to the processing and depatch factory at Luzenac. 
The filled buckets start their run on the cable (left).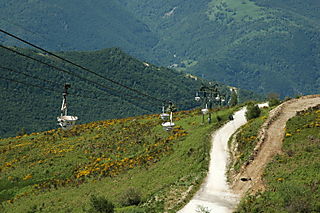 As the filled buckets descend  (right) they contribute power to raise the empty buckets back up.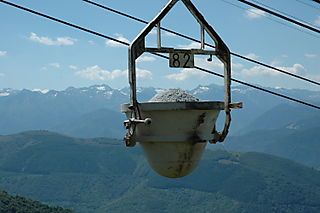 The main uses of talc: in the manufacture of polypropylene, especially for car bodies; paint manufacture; paper coatings; cosmetics and pharmaceuticals; ceramics; agriculture and food. If you'd like more information before our DVD (scripted by Steven Vale) is available, Talc de Luzenac has a highly illustrated book available in French, German or English. The English version is called 'The Epic of Luzenac Talc'. Check www.luzenac.com/talcdeluzenac