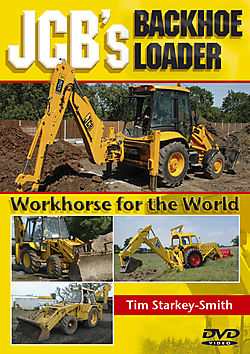 Three years ago Old Pond started filming examples of the machine that together tell the story of the development of today's JCB backhoe loader. Tim Starkey-Smith has selected examples that are either still in working condition or have been authentically restored. His knowledgeable script describes in detail the development of the machine from the Mark 1to today's Project 21 4CX. The JCBs come from a range of enthusiastic owners. Filming is completed and the programme is now close to release.
JCB's backhoe loader: workhorse for the world, Tim Starkey-Smith, DVD, approx 100 minutes, £17.95, NOW IN STOCK.
Contents
Trencher (stills)
JCB Mark 1
Hydradigga
JCB 4
JCB 4C
JCB 1 Gravedigger (2 examples)
JCB 1D Dumpers (2 examples)
JCB 3
JCB 3C I
JCB 3C II
JCB 2D II
JCB 3D II
JCB 4D
JCB 3C III (2 examples)
JCB 3D III
JCB Project 5 3CX
JCB Project 6 3CX Turbo Sitemaster
JCB Project 7 3CX
JCB Project 8 3CX
JCB 2CX 2nd version Streetmaster
JCB Project 12 3CX Contractor
JCB Project 21 3CX
JCB Project 21 3CX 60-year machine
JCB Project 21 4CX
Photographs from recent filming are shown in our blogs dated 29 October 2007, 16 April, 5 May & 12 June 2008.