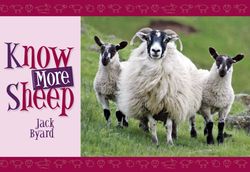 Jack Byard's third book in the 'Know Your ...' series is due for publication in April by Old Pond Publishing. Know More Sheep contains photographs and brief descriptions of 40 breeds to be found on British farms.
This companion to Jack's first book, Know Your Sheep, deals with rarer breeds as well as some of the first-cross Mule breeds that you will commonly meet with on hill-farming land.
Know More Sheep, a postcard-sized paperback, 88 pages. ISBN 978-1-906853-00-6. IN STOCK at Old Pond Publishing, £4.99.
Contents
1 Balwen Welsh Mountain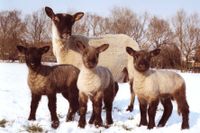 2 Berrichon du Cher
3 Bleu du Maine
4 Boreray
5 Brecknock Hill Cheviot
6 Cambridge (photo: top right)
7 Castlemilk Moorit
8 Charmoise
9 Charollais
10 Cheviot Mule
11 Clun Mule
12 Corriedale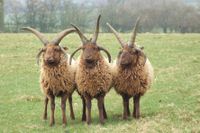 13 Cotswold
14 Est à Laine Merino
15 Exmoor Mule
16 Friesland
17 Galway
18 Gotland
19 Hebridean
20 Highland Mule (cover photo)
21 Icelandic
22 Ile de France
23 Manx Loaghtan (photo: middle right)
24 Mule sheep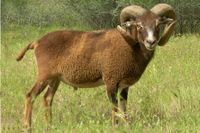 25 Norfolk Horn
26 North of England Mule
27 North Ronaldsay
28 Ouessant
29 Portland
30 Rouge de l'Ouest
31 Roussin
32 Scotch Mule
33 Scottish Greyface
34 Soay (photo: bottom right)
35 Texel
36 Vendeen
37 Welsh Mule
38 White Faced Woodland
39 Wiltshire Horn
40 Zwartbles