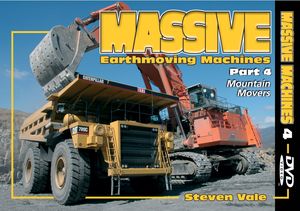 This DVD deals with some extreme Mountain Movers from Hitachi, Komatsu, Cat and Liebherr. They are at work in the coalfields around Fabero, northern Spain, and the talc mine of Luzenac in the French Pyrenees. You will find two sets of photographs in our blog of 3 July 2008.
Massive Earthmoving Machines Part 4 Mountain Movers, by Steven Vale, DVD, approx 90 minutes, ISBN 978-1-906853-06-8, IN STOCK at Old Pond at £15.95 (inc VAT). 
The programme contains some truly memorable footage recorded by Jonathan Theobald and Roger Wiltshire, the team who worked on the first three critically acclaimed programmes in the series. The script is by Steven Vale whose previous work includes the Aitik DVD and Demolition Giants.
Contents
SPAIN
FABERO COAL MINE
Hitachi EX5500 excavator (520 tonnes) – only ones in Europe
Cat 789C dump trucks (200-tonnes capacity)
Komatsu D475A dozer (100 tonnes) – biggest in Europe
Cat 5110B excavator (130 tonnes)
Cat 988F wheeled loader
Plus Tamrock drills, a blast, numerous other excavators and coal loading.
TORMELEO COAL MINE
Komatsu PC3000 hydraulic excavator (250 tonnes)
Cat 16M grader
Hitachi Zaxis EX850 hydraulic excavator (85 tonnes)
Komatsu D375A dozer (70 tonnes)
Komatsu WA800 wheeled loader (100 tonnes).
CERREDO COAL MINE
Hitachi EX3600 hydraulic excavator (360 tonnes) – rare machines in Europe
Komatsu WA600 wheeled loader (53 tonnes).
FRANCE: LUZENAC TALC MINE
Liebherr R994B hydraulic excavator (340 tonnes)
Komatsu HD985 dump trucks (105 tonnes capacity)
Cat 777C dump trucks (95 tones capacity)
Cat 992G wheeled loader (100 tonnes)
Numerous Liebherr excavators extracting and loading talc with special front shovels.
Drills, a small blast, and a novel bucket and cable transport system.
FABERO EXTRA
O&K 120-C hydraulic excavator (220 tonnes)
Demag H185 hydraulic excavator (200 tonnes)
Demag 95 hydraulic excavator.