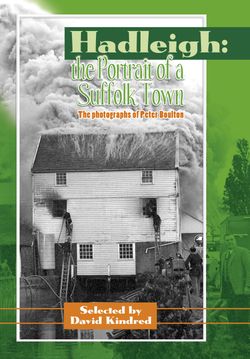 Hadleigh: the Portrait of a Suffolk Town. The photographs of Peter Boulton
Selected by David Kindred
Commercial photographer and film-maker Peter Boulton recorded Hadleigh and its people in the 1940s and '50s. This thriving country town, ten miles west of Ipswich, gave him scope to photograph the activities that were typical of so many towns at that time.
During the Second World War Peter Boulton photographed the wartime sandbagging of major buildings, the work of the Royal Observer Corps and the celebrations of VE Day. His later photographs show the craftsmen of the town, including work at Brett Weavers where coconut matting was woven.
There are many evocative photographs of groups of people – at carnivals, fetes, school sports, dances, the Coronation celebrations and the Hadleigh Show. The Hunt winds its way through the town and there are accidents and incidents such as the disastrous fire at Toppesfield Mill in 1954, the cover picture.
David Kindred has also selected photographs from a dozen of the surrounding villages such as Kersey, Boxford and Monks Eleigh. He has based his captions on the log left by the photographer and has consulted the Hadleigh Town Archives and the Hadleigh Society for supporting information.
David Kindred worked for forty years as photographer and picture editor on Ipswich and East Anglian newspapers. He writes two popular weekly articles featuring local nostalgic photographs and is the author or co-author of ten books, three of which have been published by Old Pond.
Paperback book, 242 x 168mm, 128 pages with 250 photographs. ISBN: 978-1-906853-12-9. IN STOCK at Old Pond, £12.95.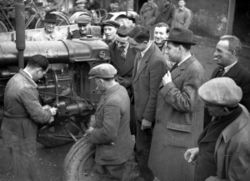 Among those at a tractor sale and demonstration at the White Hart, Hadleigh, in 1947 were Jack Gray, Mr H Wright, Mr Widdicombe, Jack Green, Johnny Green, Bill Bateman, Leslie Widdicombe and Jack Wells.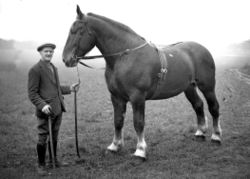 Horseman Mr Fleet lived at Long Pond Cottages, Lower Layham and worked a short walk away at Overbury Hall Farm. This photograph was taken in 1948.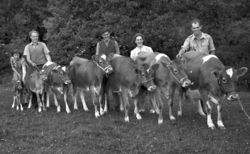 Farmer Victor Fairfax (left) with a line-up of Guernsey cattle at Brook Farm, Great Waldingfield in 1949. Soon after the Second World War Mr Fairfax and his wife Christine bought three farms totalling about 350 acres.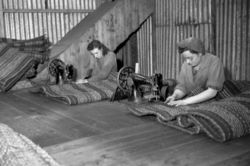 Part of the production line at Brett Weavers in October 1947. Brett Weavers made a wide range of goods including rope, coconut matting and sacks. During the First World War they also made army uniforms.
Good friends at the Hadleigh Secondary Modern school sports day, June 1954.