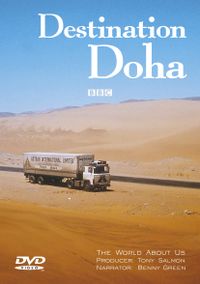 Destination Doha, produced by Tony Salmon for the BBC 'World About Us' series in 1977, double-DVD set, approx 98 minutes. IN STOCK at Old Pond, £17.95 (inc. VAT).
Doha, capital of Qatar on the Arabian Gulf – five thousand miles from London with 11 countries to travel through and 23 Customs posts on the way. Blizzards in Austria, sandstorms in Syria; broken-down trucks to repair and bogged-down trucks to dig out of the sand.…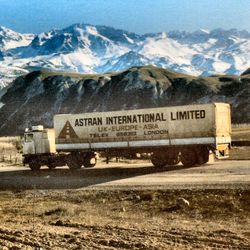 The exciting, gruelling life of drivers on the overland run to the Middle East was captured by the BBC's World About Us series in 1977 and transmitted in two parts.
In Part One, 'The Easy Bit?', we meet British drivers Frank Hook, John Williams, Dave Poulton and Dick Rivers. We follow their mixed fortunes and tyre changes across Europe, into communist Yugoslavia and Bulgaria and then to Turkey where bureaucracy was a way of life.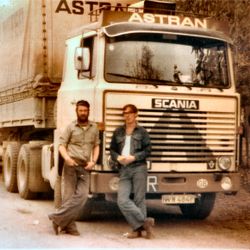 Part Two's 'Difficult Bit' leads through chillingly dangerous roads to Ankara and over the Taurus mountains. Then through Syria, Jordan and Saudi Arabia – each offering a different challenge to the drivers and their Scania and Leyland trucks.
This double-DVD set contains both parts of the original programme. You'll see that for these Astran International drivers their work was more than just a job – it was a way of life with a sense of adventure, winter and summer, ice-cold and desert-hot.
The photographs have been kindly supplied by Ashley Coghill whose own book, The Long Haul Pioneers, telling the full story of Astran International will be published in 2010.