Following his immensely successful Scania at Work book, Patrick W Dyer has turned his attention to preparing a pocket-sized title in the Know Your ... series for novice enthusiasts.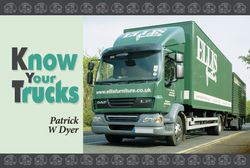 Know Your Trucks, paperback book, 96 pages including 45 illustrations. ISBN 978-1-906853-19-8. IN STOCK at Old Pond at £4.99.
As Patrick writes in his Foreword - 'Trucks (or lorries) are all around us. Virtually everything that we eat, drink, wear, ride, drive and, in many cases, live in has at some time been delivered by a truck.
'Trucks form the backbone of industry, feeding the factories with the raw materials and components which enable them to create the end products that are then collected by trucks to be delivered to the shops, dealers and end users. The world economy is dependent on trucks to keep the goods moving, allowing trade between countries to flourish.
'With its origins in the early part of the last century, the truck has developed over the years into a highly specialised tool with a staggering range of variants to fulfil a multitude of tasks. Stringent regulations ensure that trucks are now some of the most efficient and cleanest vehicles on the road.
'As a book of this size could not adequately cover the variants of just one model range from just one manufacturer, we decided it would be better to explain to you the purpose of some of the more common types of trucks that you will see every day on our roads.'
The 44 types shown in the book include flatbeds, box vans, refrigerateds, curtainsiders, sliding canopies, container artic, oil tanker, diesel artic, bulk powder artic, vacuum tanker, machinery carrier, low loader, car and bus transporters, tipper trucks, skip trucks, glass carrier, furniture van, logging trailer, concrete mixer, refuse truck, horsebox, road/rail truck, heavy haulage example and recovery truck.
Patrick accompanies each picture (the majority of which are from the manufacturers) with a clear description of type, a guide to typical use and some engineering details. These are reinfoced by a cutaway and diagrams at the end of the book.
Among the manufacturers who contributed pictures to the book are Isuzu Trucks, Mercedes-Benz UK, Iveco, DAF and Volvo.