Wantisden Valley, whose annual event 'Power of the Past' is fondly remembered (it ran from 1996 to 2004) is starting a new event this year. We don't expect such a feast of working machinery although organiser Kate Leith says that quite a lot will be there. 'Wartime Weekend' takes place on 26-27 September.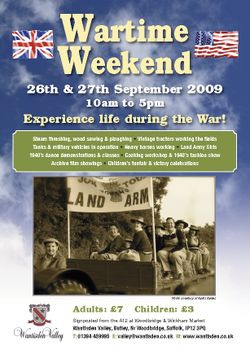 As the poster shows, there will be lots of activities relating to the Second World War. The items listed are: steam threshing - steam wood-sawing and ploughing - vintage tractors working - tanks and military vehicles in operation - Land Army girls - 1940s dance demonstrations and classes - 1940s fashion show and cookery - children's funfair - archive film showing.
The archive film show is Old Pond's contribution. But rather than show just our own programmes we are working with Panamint Cinema, a Scottish company which specialises in transferring 'forgotten' documentaries to DVD.
The following are some of the films we shall show:
A Welcome to Britain. A War Office film from 1943 starring Burgess Meredith, Beatrice Lillie and Bob Hope showing what GIs could expect when they arrived over here, from country pubs to racial integration.
The True Story of Lili Marlene (1944) shows the progress of the war through the German and Allied troops' adoption of the Lili Marlene song. A Humphrey Jennings film featuring Marius Goring.
Women and Children at War is a collection of short documentaries from 1940-1943. Land Girls, the Women's Institute, a rural school, evacuees and factory workers are among the themes in this stirring programme.
Another collection of programmes from 1940 to 1944 gives a snapshot of how the services and civilians stood up to the threat of Germany. We Forgot About Germany includes appearances by Leslie Howard and Bernard Miles.
Four war-time farming films showing the seasons in 1941 to 1942 make up The Crown of the Year. The farms featured are from Dorset, Herefordshire, Lancashire, Cheshire and Norfolk.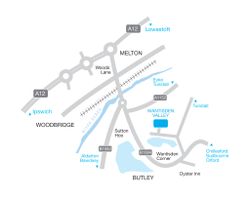 Wantisden Valley is a few miles north of Woodbridge, Suffolk, off to the east of the A12. There will be plenty of signs leading in from the A12 itself.
26 and 27 September: 10.00 am to 5.00 pm.
Click on the map to the left to enlarge it.