We have received fine reprints of two classic rural books edited by Lilias Rider Haggard. Publishers Coch-y-Bonddu Books have published facsimile paperback gatefold editions, including the unforgettable illustrations by Edward Seago. Each book costs £19.95.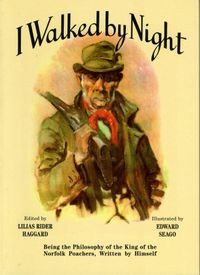 I Walked by Night, first published in 1935, is the book whose anonymous 'author' Charlotte Paton researched for the Old Pond book The King of the Norfolk Poachers. It is an account of the unruly life of Frederick Rolfe.
The Rabbit Skin Cap tells the story of Norfolk countryman, shoemaker and poacher George Baldry. It was first published in 1939.
Both books are available from Old Pond Publishing.