What tractors are being used on really big cropping farms in the United States today? This programme focuses on North Dakota where spreads can be 10,000-50,000 acres.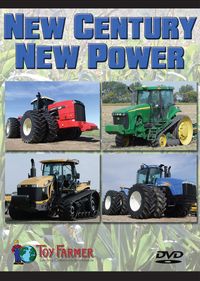 New Century New Power by Toy Farmer magazine and Peter D Simpson. DVD, 65 minutes. £16.95 inc VAT. Available now from Old Pond
The big names are all here: John Deere and New Holland with their 9000 ranges; Case IH with 535, 335 and 485; and Versatile with 435 and 535. There is a feature on Challenger and a look at some special-edition machines produced for Steiger's 50th anniversary.
The tractors are seen working on a variety of big-field operations and interviews examine some key aspects of the new technology. A JD dealer, armed with a laptop, explains how maintenance requirements have changed; drivers talk about the advances in field mapping and the computer in the cab. With strip-tillage systems and prescription planting, spraying and fertiliser application, today's big farmer is ever more equipped to crop efficiently.
Interviews point up the advantages of rubber tracks as well as the growing capability of all the machines. The currently used 60 ft equipment offers a work rate of 40 acres an hour; the coming 90 ft machinery can give 60 acres or more. Auto-steer means that on a 1,000-acre field four tractors can work together with no overlaps.
New Century New Power – this is what really large-scale farming is all about.