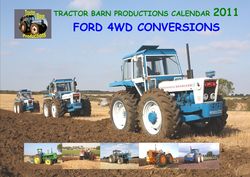 Tractor Barn's first annual calendar pays tribute to Ford's four-wheel-drive conversions.
Ford 4WD Conversions 2011 Calendar, 28 pages, 294 x 208 mm landscape format. ISBN 978-1-906853-45-7. In stock at Old Pond at £9.95 inc VAT.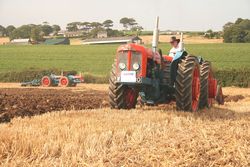 The calendar is A4 format, 'American style' so that it hangs open with two pages to view. The top page carries a full-size image of one of the classic conversions photographed at a working day or similar event.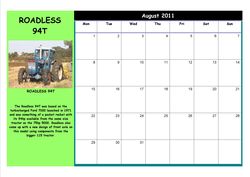 Half of these are different models from the main picture. Alongside there is plenty of space in the diary for brief notes.
Creators Jonathan Whitlam and Stephen Richmond have included short texts giving basic details of the models shown.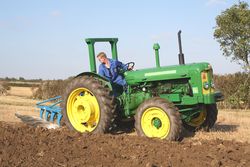 If you like Ford conversions you will want to have this attractive and informative calendar on your workshop wall – or in the kitchen.

The main tractors month by month
Roadless Ploughmaster 6/4 - County Super Six - Doe Triple D - Roadless Ploughmaster 95 - Doe 130 - Roadless 115 - Muir-Hill 101 - Roadless 94T - County 1174 - County 7600-Four - Roadless 120 - County 1474.