So this was my first visit to Europe's premier construction and related machinery show, a hot Saturday at the new Munich exhibition halls. Of course, I didn't have time to get round it all.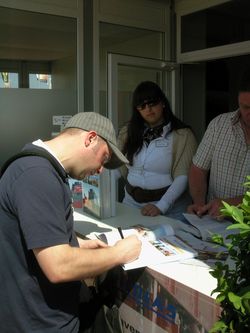 I did get to meet Stefan Jung, co-author of Die Schwerlastspezialisten, the new hardback book about the three heavy transport specialist companies Scheuerle, Nicolas and Kamag.
Stefan (left) was signing copies of his book on the Kamag stand. Its 188 glossy pages are packed with photographs - there must be nearly 500 altogether - each accompanied by brief captions in German. The retail price is 29.90 Euros. More details are on the website of publishers Podszun. The book is available in the UK from Nynehead Books at £28.95. 
Amongst all the glittering yellow, a piece of the UK's heritage stood out like a low-level beacon.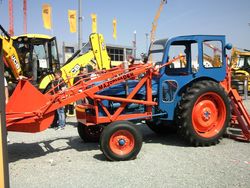 The JCB Mark 1 backhoe loader was centre-piece on the large JCB stand, proudly announced as Europe's first backhoe loader.
When we filmed the story of the development of JCB's backhoe loader we were lucky enough to record the second Mark 1 ever built, the forerunner to this model.