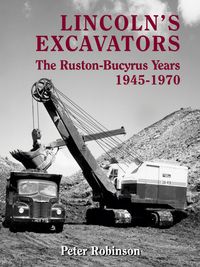 Lincoln's Excavators: the Ruston-Bucyrus Years 1945-1970 by Peter Robinson. Hardback book, 336 pages inc. approx 600 photos. ISBN 1-871565-52-9. Now in stock at Old Pond at £34.95.
In the two decades after the Second World War the story of Ruston-Bucyrus was one of almost continual growth – in the range and size of its products and in the size of the works and workforce.
In this golden age the company's products included the 54-RB shovel/dragline, 38-RB, 22-RB, the 100 series mining shovels, the 30-RB, machines for piling and special applications, tower cranes and the introduction of hydraulic excavators.
These were machines that sold themselves in a world hungry for plant and construction machinery.