The East Anglian Film Archive was founded in 1976 by David Cleveland who continued to direct it until 2004. By this time it had grown to a collection of over 100,000 items, including deposits from local BBC and Anglia Television. The archive, owned and operated by the University of East Anglia, is housed along with the Norfolk Records Office in a purpose-designated building in Norwich.
David set out clearly the philosophy of a film archive - that preservation and presentation should go hand in hand. During its heyday the archive was giving up to 250 showings of films a year to all sorts of local groups. I have seen the films at steam fairs, village halls and the Ipswich Corn Exchange, and they were shown in schools, workplaces and many other venues.
The earliest films in the collection date back to 1896. They include scenes, events, trades, buildings and ways of life that would otherwise be lost to view, whether it is an eel-catcher on the Norfolk Broads or a 1960s coffee bar. When David and his colleagues presented the films they communicated their own enthusiasm for them, holding a packed village hall captivated as the projector whirred away.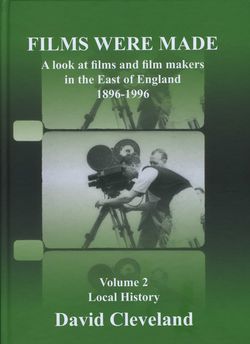 Later developments at the archive included an MA course in film and television archiving established in 1990. This attracted students from all over the world but is now apparently in jeopardy due to education cuts. There is a programme of digitisation and the release of some of the material on DVD. Old Pond's Farmers' Films and three 'Bygones' programmes show EAFA footage.
Since his retirement in 2004 David Cleveland has been writing two monumental books, the second of which has just been published. They are packed full of information about the archive's films, the film-makers and the background to the film-making. These large-format books are highly illustrated with frames from the films. The books can be read through or dipped into; whichever way you approach them, if you have a feeling for social history and film or an affinity with East Anglia you will find it rewarding.
The books are: Films Were Made: a look at films and film makers in the East of England 1896-1996. Volume 1 The Region at Work. Volume 2  Local History. Both are hardbacks 287 x 210 mm by David Cleveland. Each book is £27.
Volume 1 (ISBN 978-0-9558271-2-9, 286 pages), gives a short technical background, then considers the earliest film-makers in the region before dealing with broad themes: Industry, Farming, The Coast, Wartime, Transport, Television Arrives.
Volume 2 (ISBN 978-0-9558271-3-6, 352 pages) takes a regional approach, dealing in turn with films applicable to Bedfordshire, Cambridgeshire, Essex, Hertfordshire, Norfolk and Suffolk. There are further insights into film-making, including cine clubs, and the cinema in the region.
Both books have full indexes, lists of film-makers and films and a select bibliography. The books can be obtained direct from David Cleveland at PO Box 7608 Manningtree, Essex. He asks for £30 per book including postage. Retail outlets include Jarrolds at Norwich, Heffers at Cambridge and Townsends at Manningtree.