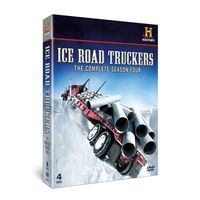 Ice Road Truckers: the Complete Season Four, History Channel. Four-disc DVD set, approx 12 hours. Now in stock at Old Pond at £19.95.
Melting ice, whiteouts, punctures, avalanches,fatigue ... and that's on a good day!
Join Jack Jesse, Lisa Kelly, Alex Debogorski and the rest of the ICE ROAD TRUCKERS as they return in the fourth series of this hit History programme.
This time around the action comes thick and fast as the drivers tackle frozen rivers and swamps out beyond the Dalton Highway, hauling supplies to some of the remotest towns of the great white north, where they come across the most dangerous terrain they have ever faced.
The stakes are higher than ever as the dash for cash continues!
SPECIAL FEATURES: Additional Footage includes Ray Leulleaux Bio, Greg Boadwine Bio, Trucker Pranks, Trucker Competition and Truckers Speak.
The three other Ice Road Truckers DVDs are available at Old Pond's trucking books and DVDs.