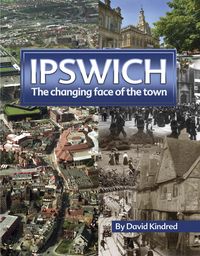 Ipswich: the changing face of the town, David Kindred. Hardback 280 x 220 mm, 176 pages inc approx 320 photographs. ISBN 978-1-906853-95-2. Now available from Old Pond at £19.95.
Ipswich, the county town of Suffolk, has hosted famous engineering companies and major insurance groups; it is a progressive town which has transformed itself over the past hundred years. Today, new buildings jostle alongside those which have managed to survive for centuries. Where horse-drawn vehicles and trams once thronged the streets, pedestrians, cars and bicycles now compete for space.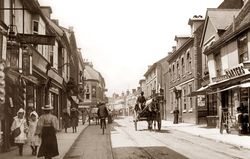 To help us appreciate the extent of change David Kindred has selected over three hundred photographs from the 1890s to today. These are arranged by area so, for example, you can see clearly the difference the architectural choices of the 1960s made to St Matthews Street or Carr Street.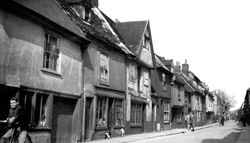 Have these changes been for the better? In the 1950s the community around 'The Mount' was demolished to make way for the police station, Wolsey Theatre and Civic Centre. The great dock whose quays until quite recently were filled with the clamour of commercial activity is now a marina and the base of our new university.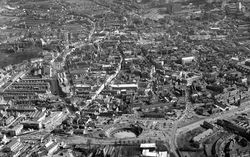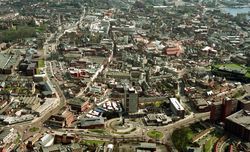 Progress and change always come at a price. The remarkable collection of fully captioned photographs allows us to discuss whether the benefit has outweighed the cost.
David Kindred has over forty years experience as a professional photographer in Ipswich, having enjoyed a long career with the East Anglian Daily Times and the Evening Star. He has built up the town's leading archive of photographs. More books by David can be found in the photographic books section of the Old Pond website.
The photographs in this blog, all included in David's book, are, from the top: St Matthews Street 1897; Rope Walk 1934; Ipswich from the air 1965 and 1994; the Dock 2009 and 1964.