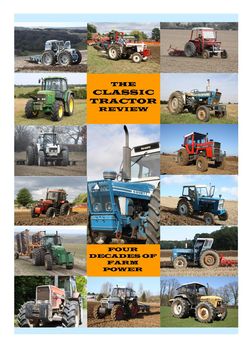 The Classic Tractor Review, Stephen Richmond and Jonathan Whitlam (Tractor Barn). DVD, approx 100 minutes. ISBN 978-1-908397-07-2. Now in stock at Old Pond at £16.95 inc. VAT.
Just what is so special about classic tractors? To provide an answer Stephen and Jonathan show us a wide range of machines built from the 1960s to the 1990s at work on farms. Among the great names here are Ford, Massey, County, John Deere, Case IH and David Brown.
Special features include a farmer's hay harvest using classic tractors from the 1960s, '70s and '80s. There is also a tour of the 2010 National Ploughing Championships where many classics were in action.
Classic tractors belong to the golden years when manufacturers competed keenly to keep pace with advances in agricultural equipment and machinery. At the same time, tractors became more stylish and comfortable – a pleasure to work with. Although technical sophistication increased it was still at a level where owners felt able to resolve problems themselves rather than relying on a specialist. The rewards for the producers of successful models came in their buoyant sales to farmers at home and overseas.
A final test of whether these are true classics is whether they have stood the test of time. So many of the tractors in this programme have, and in the process gained an iconic status.
The models shown are: Massey Ferguson 35 • Massey Ferguson 135 • Ford 4000 (6X) • Ford 4600 (7A1) • Ford 4600  (7A2) • Marshall 804  • John Deere 6400  • David Brown 990 Implematic • David Brown 780 Selectamatic  • Ford Force 5000 (6Y) • Ford 6600 (7A2) • International Harvester 956XL • County Super Four • County 1184TW • County 974 • Roadless Ploughmaster 75 • Roadless 118 • Massey Ferguson 3630 • Ford 8630 • New Holland TS115 • New Holland 7840 (late example) • Ford 7610 II (AP) • John Deere 4020 • Case 1594 • Case IH 1594 • Leyland 384 • Same Jaguar 100 Export • Lamborghini Formula 135 • Ford 7810 II • Massey Ferguson 390 • Massey Ferguson 8130 • Many different classics from the 2010 National Ploughing Championships • Ford 5030 • Ford 7840 SLE • Massey Ferguson 362 • Case IH 1056XL • John Deere 2450 • John Deere 4850 • John Deere 7810.
More programmes by the Tractor Barn duo Stephen Richmond and Jonathan Whitlam can be found here.