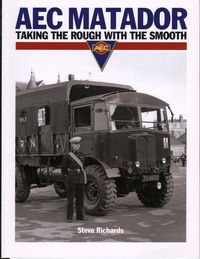 AEC Matador: taking the rough with the smooth, Steve Richards. Paperback 280 x 215 mm, 80 pages inc. approx 167 photographs. Published by Japonica Press and available from them at £15.99.
This is a high-quality reprint of the book first published in 2009 by the author.
Part 1 deals with the AEC (0)853 4x4 Matador, armoured command vehicle, Deacon SP gun and civilian adaptations. Part 2 covers the (0) 854 6x6 refueller, Coles crane, mobile oxygen-nitrogen plant. There are also 15 pages of appendices including military colours, AEC types, Irish Matadors and a list of the surviving vehicles.
The photographs below are not included in the book but are from my own family album.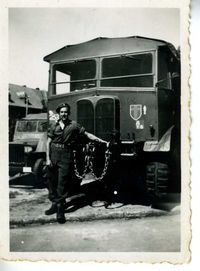 Patrick Doyle, my godfather (seen in the first photograph) accompanied the Canadians in the Normandy landings. After the end of the European war he was at Nieuwport in Belgium. The two images are from August 1945. The late Patrick Doyle was Gnr PD Doyle of the Honourable Artillery Company HAC 1813018. He served with the Royal Sussex Regiment.