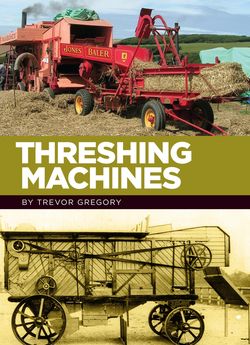 Threshing Machines, Trevor Gregory. Hardback 290 x 208 mm, 256 pages inc. approx 245 photographs and 132 line illustrations. Published by Japonica Press and available from them at £27.95.
If you are going to pay twenty-eight pounds for a book you expect something substantial. Here you get it. Threshing Machines is large-format, wide-ranging and packed full of illustrations.
The contents are: Before the machine • crops • schematic design • construction • variations • accessories, variants and exports • operation • adjustment • surveying the makers • ancillary equipment • historical context • early attempts • developments after 1840 • motive power: before steam; steam; oil • governors • preservation and restoration • combine harvester metamorphosis. There is a list of illustrations, glossary and bibliography, but no index.