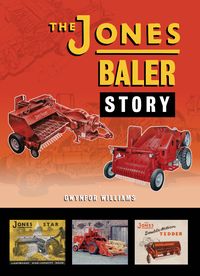 The Jones Baler Story, Gwynfor Williams. Hardback, 290 x 210 mm, 196 pages inc. approx 250 photographs and 20 diagrams. £24.95 from Japonica Press.
From 1942 to 1961Jones produced over 13,000 balers in seven main models from stationary hand-tied machines to self-propelled pick-up versions. Their 'Minor' was an outstanding success. Among their other products were tedders and hay conditioners, manure spreaders and combines.
Based in Rhosesmor, near Mold in north Wales, they had by 1950 grown from a modest threshing contracting company to have over 160 employees and were recipients of a Gold Medal from the RASE for their Invicta. In 1961, when they sold out to Allis-Chalmers, they were up to 400 staff.
This became a fiercely competitive market in which the economies of scale available to IH and Massey Ferguson in the end proved dominant. After A-C, Jones passed to Bamfords and in 1981 to liquidation.
Gwynfor Williams' account deals in detail with all the machines, illustrated with a wealth of photographs, copies of advertisements, price lists and instructive cut-aways. He draws on his background as a former lecturer in agricultural machinery at the Lancashire College of Agriculture (Myerscough) and a long-time association with Jones Balers.
He includes information on the company management and its social activities. Useful Appendices include a time line, specifications and estimated production totals. He has enjoyed access to archive material retained by the Jones family. There is a first-hand account of what it was like to work at Jones and an assessment by a baling contractor. Finally, Gwynfor Williams deals with the enthusiasts' movement for the preservation of Jones machinery and includes some points of contact.