Chris Lockwood, whose most recent DVD The Maize Silage Campaign  is selling strongly, has now turned his attention to filming beet harvesters. He has collected some 75 examples, all working on farms; none of them are from working days.
Old Pond Publishing plans to release a set of two DVDs in April under the title Beet Harvesters in Britain. The photographs below show some of the models from the first programme which covers machines manufactured during the period 1960-1995.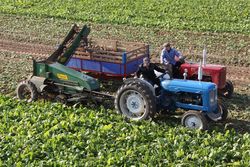 A well-known classic of the '60s; the Standen Rapide single-row harvester. This one is being drawn by a Fordson Super Major.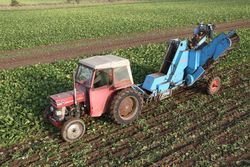 Another popular machine, a Ransomes 33A single-row tanker working behind an MF 148.
The Standen Cyclone must be an icon of the British beet industry. This late example uses an IH 474 skid unit.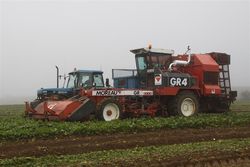 A 1990 French-built Moreau GR4 six-row harvester at work on a foggy day.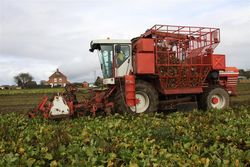 An early tanker design from Holland, this Vervaet & Heyens 12-tonner dates from 1993.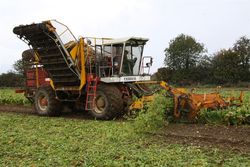 The ZA 215 EH from Cebeco was another successful Dutch tanker design.
You can browse thousands more farm tractor and machinery photographs on Chris Lockwood's website Mid Suffolk Agri Photos.