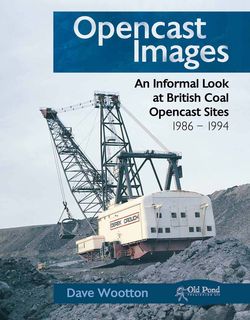 Opencast Images: An Informal Look at British Coal Opencast Sites 1986-1994, Dave Wootton. Hardback book, 210 x 265 mm (landscape), 144 pages inc. 230 colour photographs. ISBN 978-1-908397-42-3. Now available from Old Pond at £24.95.
In the United Kingdom surface coal mining began in 1942 in response to a national shortage of deep-mined coal. By the 1980s, when Dave Wootton began touring sites and taking photographs, the industry was firmly established with major operations and very large machinery.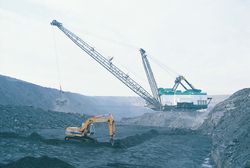 His fully captioned pictures cover the period from 1986 until British Coal Opencast (BCO) was privatised in 1994. There are panoramic shots showing the scale of operations and fine close-ups of individual machines of many kinds at work. He includes several walking draglines such as the 4,000-ton 'Ace of Spades', the largest of its kind in Europe. Another record holder was O&K's RH300 hydraulic shovel beautifully photographed by Dave at its Godkin, Derbyshire workplace.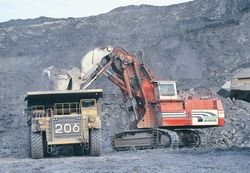 Dave visited some two dozen sites in Derbyshire, Northumberland, Yorkshire, South Wales and elsewhere, capturing the full range of surface mining activities. The equipment was manufactured by famous names such as Caterpillar, Ransomes & Rapier and Ruston-Bucyrus. BCO used contractors – so Wimpey, Taylor Woodrow, Fairclough and others are all seen playing their parts.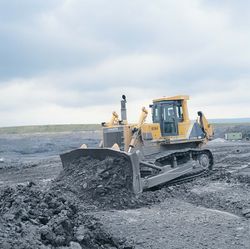 The surface-mining industry has changed considerably since 1994, meaning that this collection of photographs has great historic interest for enthusiasts. The author also includes a short history of BCO, some Open Days material, machine specifications and a full index of machines. Dave Wootton, a retired bus driver, lives in Hednesford, Staffs. He has been fascinated by opencast mines since childhood.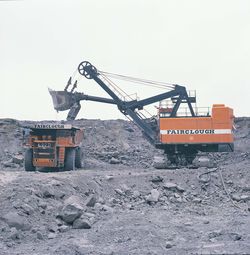 The sites covered in this book are:
Ackton • Airdsgreen • Bleakhouse • Brown Lees • Butterwell • Chalmerston • Chapmans Well • Chester House • Coalfield North • Cornwall • Damside • Derlwyn • Dixon • East Chevington • Ffos Las • Ffyndaff • Gilfach Iago • Godkin • Incline Top • Keekle • Kirk • Maesgwyn Cap • Nadins • Nant Helen • Newdale • Parkslip • Potatopot • Ryfield • Skelton • St Aidans • Stobswood • West Chevington.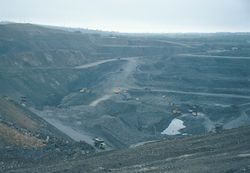 The principal machines shown:
Cable Shovels: Lima 2400, Marion 182M, P&H 1900AL, Ruston-Bucyrus 22-RB, 150-RB, 195-B.
Crawler Draglines: Lima 2400, Marion 195M, Ruston-Bucyrus 150-RB.
Walking Draglines: Bucyrus-Erie BE 380W, BE 480W, BE 1150B, 1260W, BE 1550W, Marion 7500, 7800, P&H 757, Ransomes & Rapier W600, W1800, W2000.
Dump Trucks: Aveling Barford RD050, 773, Cat 789, Euclid R50, R85, Komatsu HD785, Lectra Haul M100, Terex R50, R65, 3311, 2366 ADT.
Hydraulic Excavators: Ackerman H10, Cat 215, 225, 235, 245, 325, Demag H85, H121, H241, H185, H285, Hitachi UH053, EX1800, EX3500, JCB 812, Komatsu PC210, PC240, Liebherr R912, R932, R974, R994, O&K RH6, RH9, RH40, RH75, RH90, RH120, RH200, RH300.
Dozers: Cat 814 wheel dozer, D8, D9, Komatsu D155A, D275A.
Wheel Loaders: Cat 966, 988, 992.
Scrapers: Cat 631, Terex TS24. Drill Rigs: Compair Holman RBH30, Reedrill SK40.
Ancillary Plant: Cat 16G grader, Cat 825 compactor, Norwest Holst / Terex TS24 grader, Terex TS24 & R50 water bowsers.