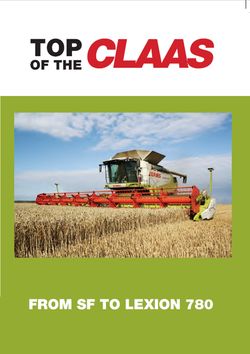 Top of the Claas: from SF to Lexion 780, Stephen Richmond and Jonathan Whitlam (Tractor Barn). DVD, approx 90 minutes. ISBN 978-1-908397-49-2. To be released November, distributed by Old Pond at £16.95 inc VAT.
 Information and advance orders: roger@oldpond.com.
German farm machinery manufacturer Claas has been producing self-propelled combine harvesters since the 1950s. In this programme we chart the story of the various Claas combine models from the very first SF type to the latest, top-of-the-range Lexion 780.
Mainly concentrating on the bigger models in each range, the story develops over the decades as we see machines at work still gathering in the cereal harvest many years after they were produced.
Models featured include the Matador Giant, Senator 70, Dominator 85, Commandor 115CS, Lexion 480, 600, 770 and many more besides.
Four smaller Lexion combines are shown at work in one field in Lancashire while a similar output is achieved by a sole Lexion 770 model in Suffolk, and we also see how the combines are moved around from field to field and prepared for different crops.
The story is brought bang up to date as we watch the Lexion 770 break the world record for harvesting the most wheat in an eight-hour period in 2011 and then the introduction of an even larger combine – the  Lexion 780 in 2012, a machine that without doubt deserves the title of Top Of The Claas.