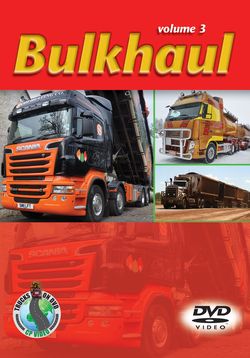 Bulkhaul Volume 3, Pete Connock and Martin Phippard (CP Productions). DVD approx 70 minutes. ISBN 978-1-908397-52-2. Now in stock at Old Pond at £16.95 inc. VAT.
The third in CP's popular Bulkhaul series is an international programme offering something for everyone fascinated by bulk haulage operations.
Pete Connock and Martin Phippard include features on an unusual MAN and four-axle semi-trailer with two tipping bodies used in Southern Sweden and an impressive Scania 8-wheel tipper employed to haul biomass fuel for Scot Heating based in Stirling, Scotland. Pete and Martin also show a stunning Volvo XXL bulk tanker drawbar outfit working in the snow and ice of a Finnish winter and an interesting Volvo FM rigid and drawbar tipper operated by HN Sillifant & Son from Cornwall.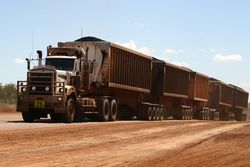 The programme concludes with unique footage of five-trailer road-train combinations working in a vast coal mine in Queensland, Australia. Grossing around 480 tonnes and measuring almost 70 metres (230 feet) overall, these leviathans require the services of a Kenworth C-500 tractor at the front end and powered axles located in the third trailer. Spectacular is a word often over-used, but NOT in this instance!
Pete Connock and Martin Phippard have been making trucking programmes for nearly twenty years. Their fully researched and narrated DVDs are aimed squarely at fellow trucking enthusiasts. More of their DVDs can be found in the Truck DVDs from CP section of the Old Pond website.