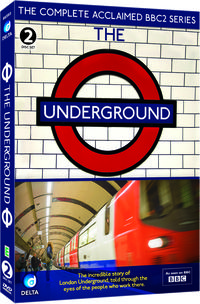 We're pleased to announce the release and availability of another brand new DVD: The Underground. This BBC series goes behind the scenes of the world's oldest, biggest and busiest underground network - the London Underground.
Made with unique access, this series takes us to places we've always wanted to see - behind hoardings to reveal massive new engineering works, inside the command centre to find out what running the world's most complex train set is really like, and into the hidden world of the Tube at night.
The series follows key members of the Tube's 19,000 staff - from chief operating officer Howard Collins down to the litter pickers who walk miles of track every night collecting rubbish. Drivers, station staff and emergency response workers all reveal their unique perspective on us - the passengers. From tourists to suburban commuters to drunks getting the last train home, we capture the life of the Tube in all its guises.
And with ten billion pounds currently being spent on the biggest upgrade of any rail network ever, we show how the process of dragging a Victorian infrastructure kicking and screaming into the 21st century doesn't always run on rails.
Order your copy of this fascinating DVD online now for just £15.99 at http://www.oldpond.com/the-underground-2-dvds.html