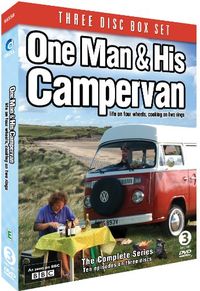 This week we're pleased to announce the release of another new DVD: One Man & His Campervan.  Martin Dorey, campervan lover and passionate foodie, journeys around Britain in his 1970s classic campervan, on the ultimate escapist adventure.
Over ten episodes Martin travels to different regions in the UK - Devon, New Forest, Norfolk, Yorkshire, Northumberland, Angus, Trossachs, the Lakes and Pembrokeshire. Along the way he meets growers, fisherman, farmers, larger-than-life local experts and fellow holiday makers. Martin cooks for his new-found friends, creating local dishes from his small campervan kitchen.
These feasts unfold wherever Martin camps up, in some truly stunning settings: on Britain's beaches, in woodlands, on cliff tops and around intimate campfires. Martin unearths our freshest seasonal food, tasting his way around Britain on this campervan food adventure.
You can buy your copy for £19.99 on the Old Pond website today.
http://www.oldpond.com/one-man-and-his-camper-van-3-dvds.html