Founded in 1902, International Harvester of Chicago formed its British division just four years later. The acquisition of the Doncaster site in 1938 was the first step in establishing a UK manufacturing base, but it was not until 1949 that the first British Farmall M tractor rolled out of the Wheatley Hall factory.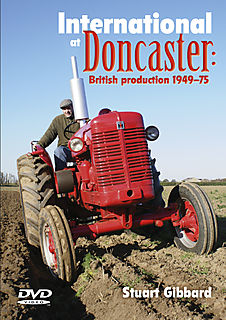 International at Doncaster: British production 1949-75 DVD by Stuart Gibbard runs for approximately 85 minutes. Now in stock, Old Pond Publishing. £15.95.
Stuart Gibbard's programme focuses on the golden years of British production, covering all the principal wheeled and crawler models built at Doncaster and its satellite Bradford plant up until the early 1970s when the worldwide range was phased in. The tractors are seen in action with a variety of implements throughout the seasons.
The featured machines, both restored and working examples, have been selected to display the diversity of the marque - from the actual first Farmall of 1949 to the last McCormick CX model to be made at Doncaster before the factory closed in 2007. This is a magnificent tribute to the glory of the British International years.
Stuart Gibbard is author of many tractor books and DVDs. He is editor of Old Tractor magazine.
The machines shown in the programme: Farmall M (first production tractor) - Farmall M (1950) with International 8-A plough - Farmall M (1951) with Bettinson trailed cultivator - Farmall Super BMD with International 8-A plough - Coronation Super BMD with seed harrows - BTD-6 with Massey Ferguson 30 drill - Super BWD-6 (1954) with McCormick Deering 8C plough - B-250 with Howard Rota-Cadet - Super BWD-6 (1957) with International 8-A plough - BTD6-40 with harrows - BTD-20 with Bullgrader attachment - B-450 with McConnel S-12 backhoe - B-275 with International B-23 mower - B-450 Farmall with Dorman trailed sprayer - TD-8 (82 Series) with disc harrows - B-414 with Vicon Acrobat - B-614 with Browns pan-buster - B-64 trailed combine with International B-414 tractor - BTD-5 with spring-tine cultivator - 434 with Massey Ferguson 34 grain drill - 634 with International cultivator - 276 - 634 'Four Wheel Drive' (Roadless) with backhoe - TD-8 Bullgrader - TD-6 with trailed Leverton cultivator - 354 with Pettit 3-ton trailer - 474 with Quike loader - McCormick CX105 Diamond Edition - McCormick CX105 Xtra-Shift.