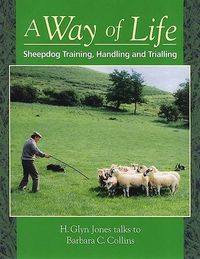 We're pleased to announce that due to popular demand, 'A Way of Life, sheepdog training, handling & trialing' is now back in print and available for purchase on the Old Pond website.
This book is a complete guide to sheepdog work in which the story of Glyn Jones' life with sheepdogs is presented as an integral part of his practical advice on training, handling, trialling and breeding.
There are chapters on: choosing a dog; foundations of rearing and training; taking the dog from play to work; the first instructions; widening the dog's experience; singling and the outrun; nursery trials; the turnback; 'polishing' the dog; brace work; sheepdog trials in Britain and North America; a guide for the novice breeder; veterinary appendices.
A third-generation sheepdog handler, Glyn Jones demonstrates his knowledge of the delicate balance between handler, dogs and sheep. His collaborator on the book, Barbara Collins was formerly editor of Working Sheepdog News.
To buy your copy, follow this link