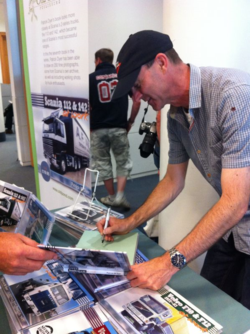 A fabulous time was had by all at this year's Gaydon Truck Show, the first time at the show for 5m since the acquisition of Old Pond.  The atmosphere in the model truck hall was invigorating with visitors from as far as the Czech Republic to France displaying their impressive creations.
Pickles and Tim were thrilled to welcome renowned author Patrick Dyer to the stand .... resulting in good sales of his new Scania title.  But don't worry, there's still plenty of stock at the Old Pond HQ so get your orders in now! Mark Robinson was never far away showing friends and associates of his appearance in Patricks book Scania 112 & 142 at Work.
A true surprise, however, was Roger Smith's appearance on Sunday.  Looking relaxed and happy in his retirement, Roger purchased the new Scania book before rushing off to find Patrick to sign it!