Dr Pullen's first book Britains Model Tractors (pub. Old Pond) was excellently received. David has now produced a companion book on balers and combines.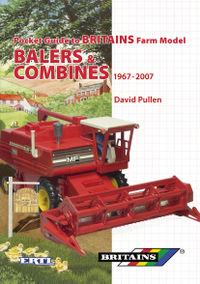 David describes all the baler and combine models produced by Britains since they were first added to its product range, and provides details of their development. As well as the standard models he gives details and photographs of rare and prototype ones.
The history is complemented by a catalogue describing the main features, differences, issue dates and codes of each model produced. Each is illustrated with six colour photographs showing the model from different angles and the issue packaging.

Britains Farm Model Balers & Combines 1967-2007, David Pullen. Hardback book, 176 pages inc. over 400 colour photographs, publication November 2008 (Veloce Publishing). NOW IN STOCK at Old Pond. £16.99