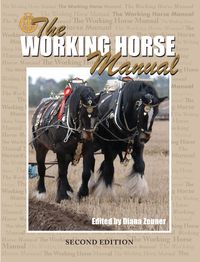 The Working Horse Manual 2nd edition, edited by Diana Zeuner. Paperback, 245 x 189 mm, 256 pages including approx. 260 photographs and line drawings. ISBN: 978-1-906853-42-6. In stock at Old Pond at £24.95.
First published in 1998, The Working Horse Manual has established itself as the bible for heavy horse owners and enthusiasts. This second edition has been heavily revised, the most substantial new material being on working horses in forestry, training horses and transport and the law.
The chapter headings are:
1. The modern draught horse in the UK: Shires, Clydesdale, Suffolk, Percheron, Ardennes, Comtois, lighter working types
2. Choosing and keeping a working horse
3. Veterinary care of the draught horse
4. Farriery for the working horse
5. Training for horsemen
6. Training your horse
7. Harness for the working horse
8. Working draught horses as singles and pairs
9. Ploughing
10. Horse-drawn machinery and equipment
11. Multiple hitches
12. Working horses in forestry
13. Selecting a show horse
14. Preparing and showing heavy horses
15. Plaiting a heavy horse for showing: Clydesdale, Shire, Suffolk, Percheron
16. Road driving
17. Caring for horse-drawn vehicles
18. Transport and the law.
Appendices: horse ploughing rules; heavy horse obstacle driving rules; timber snigging course; rules for heavy horse cross-country relay race and trials; guide notes for judging; addresses; glossary; index.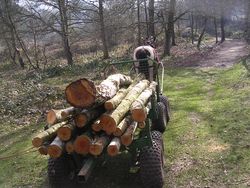 The manual has been collated and edited by Diana Zeuner, editor of Heavy Horse World, the only magazine in the UK devoted solely to draught horses.
Diana has been able to assemble a remarkable group of authoritative contributors: Carl Boyde, Matthew Bradley, Norma Bradley, Cate Brewster, Tom Brewster, Keith Chivers, Roger Clark, Keith Ellis (Inspector), Stephanie Evans, Mike Flood, Angela Gifford, Edward Hart, Mike Horler, Doug Joiner, Terry Keegan, Rowena McDermott, Geoff Morton, John Peacock, Charlie Pinney, Nick Rayner, Philip Ryder-Davis, Robert Sampson, John Ward, Nigel Westacott, Jane Wordsworth, John Zawadzki.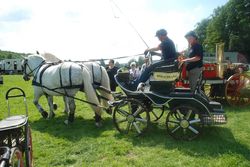 The book is highly illustrated with photographs and diagrams.
Old Pond also stocks a range of DVDs on the working horse. You will find these at the Horses and oxen section of our website.