Here at Old Pond we know that you like to keep up-to-date with our authors news, so we thought we'd update you on what Stuart Gibbard has been doing recently.  In his own words:
"Since completing Part 2 of the David Brown Tractor Story, I've been busy with numerous projects including monthly articles for Classic Tractor, Farm Machinery Journal and Tractor & Farming Heritage magazines. I also edit the David Brown Tractor Club's quarterly Tractor News. In April, I was appointed vintage tractor consultant to the leading auction house, Cheffins of Cambridge. Hopefully, things should quieten down next year, which will allow me to turn my attention to Part 3 of the David Brown book – I've already started gathering material."
If you've not yet got your copy of The David Brown Tractor Story, Part 2, this is available on the Old Pond website for just £34.95.  And for those fans of the story, don't worry, we'll keep you posted on news about Part 3.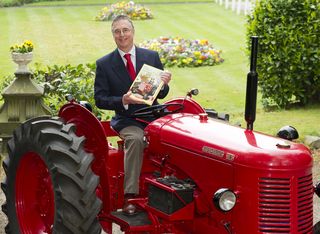 Stuart, on a David Brown tractor, at the book launch for Part 2 of the David Brown Story.