Yesterday, a brilliant, sunny day, we were near Wisbech in Cambridgeshire recording four IH McCormick tractors. Our hosts were Michael Mills and his nephew Scott Greensmith of M & E Wright & Sons (farms). This is for a new DVD to be scripted by Stuart Gibbard.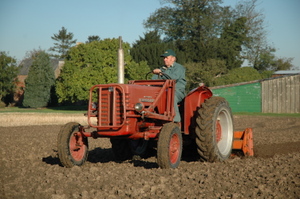 Michael's uncle bought his B250 in 1961 for £350. It was in regular use loading sugar beet until the 1990s.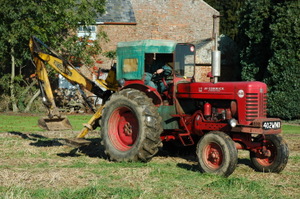 Unrestored, with many original features, the B-450 spent many years carting gravel from a local pit. Then it put in service with a tractor-mounted forklift. Although they've got a JCB, Michael and Scott like to use the McConnel S12 digger for delicate work such as digging water mains on contract. The digger's farm use was for earthing up what are known in Lincolnshire as potato graves. In Suffolk we call them clamps.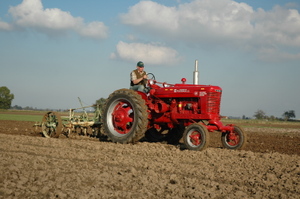 Although it was manufactured in Doncaster, England, in 1951, Michael's Farmall M has a distinctly American look to it. It's pulling a Bettinson drag that has usually been coupled with a crawler for day-to-day use on the 150-acre arable farm.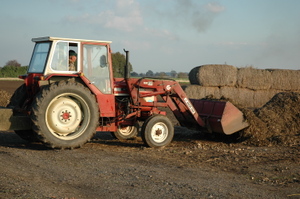 In low, late afternoon sun, Michael was using his International 474 to shift beet haulm. His uncle bought the tractor in 1974 for £2,500.