We now have DVD stock of Secret Rivers, the two series of programmes Paul Heiney presented for ITV Anglia. Paul paddled his canoe down twelve East Anglian waterways capturing insights into the rivers' histories, wildlife and those whose livelihoods were connected with the water.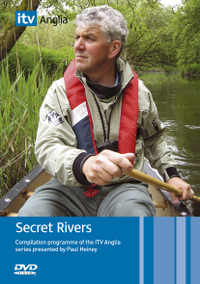 The is a double-disk set running for approx 295 minutes. Price £24.95.
The rivers included in disk 1: Waveney (two episodes); Blyth; Little Ouse; Ivel; Colne; Cam.
Disk 2: Lark; Stort; Stour (two episodes); Gipping; Nene; Wensum.