No, she's totally absorbed in her first reading of the manuscript of The King of the Norfolk Poachers.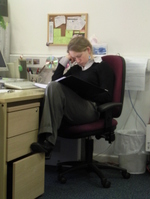 This is the product of a remarkable, lengthy research by part-time Registrar and researcher, Charlotte Paton. It all began when she moved into a remote house near Pentney, in Norfolk. She realised that it fitted the description of the cottage occupied by the mole-catcher and poacher immortalised in the 1930s by Lilias Rider Haggard in her book, I Walked by Night.
Charlotte's first task was to find out his real name, Frederick Rolfe, with the aid of the BBC Living History programme. But then as Charlotte delved deeper into Fred's life (as portrayed in Lilias's book which was based on Fred's own writing) she began to uncover lies and evasions as well as a wealth of social history.
Charlotte's book is due to be published by Old Pond in the autumn. Meanwhile, you can find Charlotte's own account of her researches in the October 2007 issue of Ancestors magazine, email ancestors@nationalarchives.gov.uk