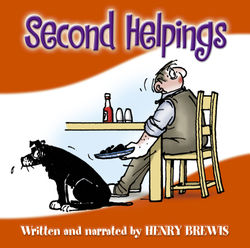 Second Helpings is a collection of stories and verses written by Northumbrian farming humorist the late Henry Brewis and read by Brewis himself. Originally recorded in the 1980s and released on audio-cassette, Second Helpings is now being made available for the first time on CD, re-mastered.
Henry Brewis fans will enjoy the liberal helpings of death-wish sheep and collie-dog capers. You will laugh at the nostalgically humorous piece on field names, some all-too-real diary extracts, a hill farmer's (expletives deleted) glossary and much more. Thirteen tracks in all.
Second Helpings by Henry Brewis. Audio CD, approx 68 minutes. ISBN 978-1-906853-04-4. Released in March by Old Pond Publishing at £7.95. IN STOCK
Contents: The Yuppie Ballad – A Lambing Story – Paradise Postponed – What Did You Do in the War, Daddy? – Modern Dawn Chorus – Dear Diary – Lament of a Farmer's Wife – Run to Earth – My Rt. Hon. Friend – View from the Window – Dream Holiday – Dear Diary (2) – Prayer for Today - Glossary.
Paradise Postponed
There's a heaven way up yonder
beyond the clear blue sky
where weary knacker'd peasants go
when it's time for them to die …
Where the lambin' is a doddle
and only twins are born
where grass grows as you need it
but you never cut the lawn …
Where bureaucrats are humble
where you always 'top' the mart
where no one's finished harvest
before you get a start …
Where tractors don't get punctures
and muck just turns to gold
where in-laws never come to stay
and dogs do what they're told …
Where phones don't ring at supper time
and overdrafts melt quicker –
and if you swallow that, my son
y' should've been a vicar!