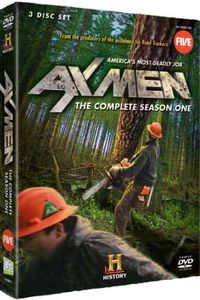 Ax Men, the complete series 1. DVD, 3 disk set, 574 minutes
ISBN: 978-1-906853-08-2
£19.95 inc VAT
NOW IN STOCK  at Old Pond
You probably found the Ax Men programmes one of the most gripping series on televion in 2008. Made by the The History
Channel®, it brought you the day-to-day lives of dedicated Oregon loggers in intimate and thrilling detail. These are the men who lay it all on the line for their jobs. Logging in the Pacific Northwest is the most hazardous job in America, twenty-six times riskier than the average U.S. job.
Filmed on location, the AX MEN DVD takes you into the heart of the action. You'll be ducking your head as logs swing by and wincing as entire trees crash onto the cameras!
Through the experiences of the veteran bosses and their crews, you'll know the ceaseless exhaustion, thrilling triumph and relief of living another day that can only be felt after a stretch "pulling wood" out of the hills. You'll learn the innumerable risks and great rewards awaiting the AX MEN.