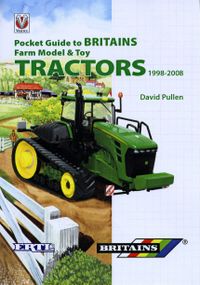 Yes, Dr David Pullen is at it again, with a third book on Britains' farm models on its way from Veloce Publishing. This one is called a pocket guide but it's going to be a blockbuster: a shade under 500 pages with 1,450 photographs. The amount of work that must have gone into this is staggering.
According to the publisher's release,'The book describes all the model tractors released in the UK, North America and Europe since 1998.' Presumably this means the Britains models released in that period, the ten years since production was transferred to China.
Each tractor is illustrated in six full photographs showing the model from different angles and the original packaging. As well as general releases, the book includes details and photographs of prototype and rare models, complemented by a catalogue describing the main features, differences, issue dates and codes of each model.
The word 'bible' is sometimes loosely applied to big books; in this case it seems that it will be completely fitting.
Pocket Guide to Britains Farm Model & Toy Tractors, 1998-2008, David Pullen. Hardback, 210 x 148 mm, 496 pages including 1,450 full-colour photographs. IN STOCK at Old Pond Publishing  at £29.99.