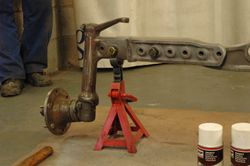 Old Pond has spent the weekend filming the paint restoration of tractors with Alan Davies in Cheshire. This is the fourth visit we have paid to Alan and just about completes the filming of the programme. We covered a lot of ground, including the use of aerosols (right) to ensure that the hidden surfaces of mountings are covered.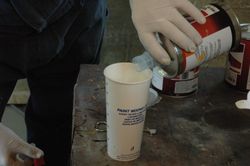 On previous visits we recorded most of the preparation work and also the sprying of a casting. But, picking up on some basics, Alan gave a full account of how he chooses paints, how he sets up the sprayer and how he mixes the paint (left). This may sound basic but the hints Alan gives will save newcomers a lot of grief.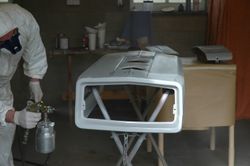 Undercoating was next on the agenda (right). Although Alan is a professional car body restorer with an industrial paint booth, this time he showed how to use a garage-type set-up which will be familiar to most of us.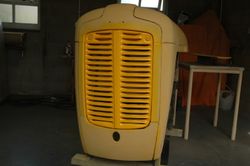 Alan moved on to the finishing of an MF industrial.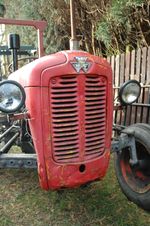 Below (right) is what it looked like in 2007 before Alan started work.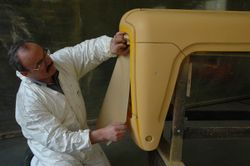 After taking the radiator out of the industrial Alan masked up the bonnet.
Using a gravity-fed gun Alan demonstrated the finishing of the bonnet (right).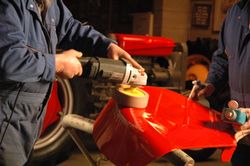 Another of Alan's useful lessons is how to polish out paintwork contaminated by dust or, as in this case, scratches (left).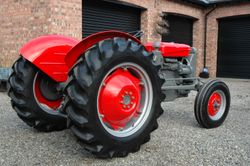 Finally - this is what you should be aiming at: one of Alan's completed tractors.
Old Pond expects to be releasing the completed DVD this autumn. There are photographs from last year's filming in the blog 26 February 2008.