On Friday Andrew Arbuckle launched his first book, Footsteps in the Furrow.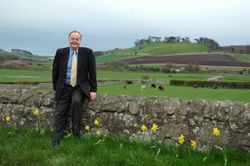 Andrew chose the village hall at Luthrie in East Fife for his party. It was to a farm in this area, seen behind Andrew in the photograph (left), that his grandfather came from the West of Scotland in about 1903.
Andrew's book, more fully described in the blog of February 11th, is a loving but unsentimental testament to Fifeshire farming - its variety, pleasures, pains, humour and the changes of the last century.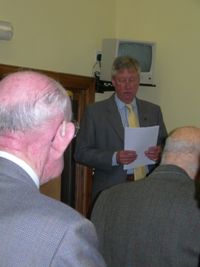 About a hundred guests gathered in the hall, including many from Fife to whom Andrew had talked when he was gathering information and photographs for the book.
While he was farming and after he retired Andrew enjoyed a long career as an agricultural journalist. Former colleagues were well represented among the guests one of whom, Bill Howatson (right) - now Provost of Aberdeenshire - paid tribute to the book.
The Provost described it as 'the collected customs, stories, working practices, living conditions and lifestyles of farming folk.'
'The book,' he continued, 'chronicles the basket of skills shared by farmers and workers, men and women, making a living from the land. It records the transformation of this part of Fife with sensitivity, understanding, sympathy, and no small amount of love.
'I am sure Footsteps in the Furrow will join the rich tradition of rural writing, and become a singular contribution to our understanding of farm and rural life. It is a well-researched, thoroughly enjoyable piece of work that will strike a chord not only here in Fife, but in rural Scotland as a whole.'
Footsteps in the Furrow is published by Old Pond at £9.95.