On 29th April, yacht Gaia is perched outside the Spirit Yachts boatyard in Ipswich Dock. Gaia is 30 metres long, 'Spirit 100' class, a classical beauty constructed of laminar wood.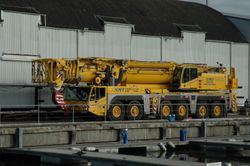 A different sort of beauty (left): the Terex / Demag AC350 crane arrives at 7 a.m. on 30th April. It has been hired by Quinto from NMT crane hire.
The counterweights are transported by two DAF 105.510 tractors (right) with Broshuis trailers. Each can carry up to 70 tonnes, a 90-tonne gross weight.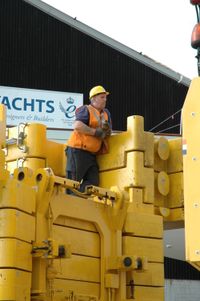 The weights are 6 or 10 tonnes each (left). The total for this lift is 122 tonnes.
The crane weighs 100 tonnes and cruises at 50 mph.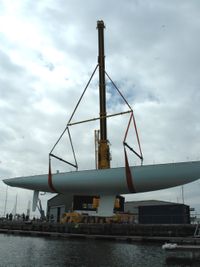 The lift was quick and trouble-free in the hands of operator Trevor Hill. That's just about £4 million he has at his fingertips (right), or two years' work for the boatyard. The crane's mast is extended 33 metres.
Even if (like me) you don't know anything about yachts you may remember the boat at Venice in the Daniel Craig Casino Royale. That was from this yard, a 54-foot version.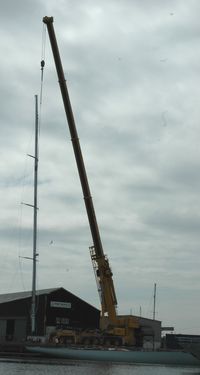 The crane was extended to its full 56 metres to handle the 40-metre mast (left). If you look at the detail of this photograph you may just make out a Terex / Demag G107 steadying the lower part of the mast.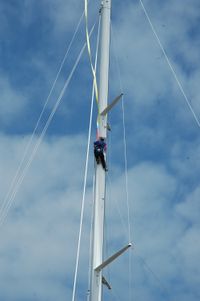 Someone's enjoying his work: up the mast (right) to free the tie.
This day's work was recorded for Old Pond's  first crane DVD in which Steven Vale will look at the large wheeled cranes. This is a 350; we expect him to find some 1,000s or 1,200s.
If you have really deep pockets and appreciate the best in yacht design check out Spirit Yachts.