After showing us the largest earthmovers in continental Europe, Steven Vale has turned to the British Isles. We have been recording with him film of the largest machines working in our open-cast coal mines. Expect a DVD (or two) from Old Pond in the autumn.
First Wales, and a site above Merthyr Tydfil that is actually a reclamation scheme for an area of noxious waste built up over the past hundred years, at Ffos-y-fran. Beneath the waste cleared by Miller Argent is the coal destined for the power station.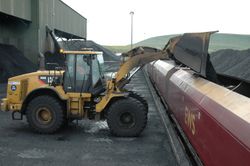 The first thing we saw (left) was the loading of the coal trucks by Cat 966H.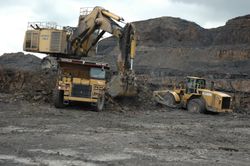 A Demag 185S backhoe (right) was loading a Cat 775E with loose material.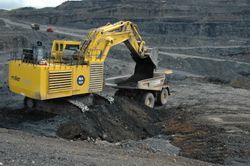 Another backhoe at work (left): Komatsu PC3000 dwarfing a 100-tonne Cat 777F.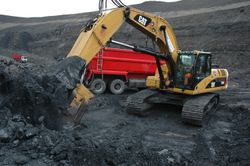 The steam coal was being loaded into trucks by Cat 325D (right) to be taken to the central store seen in the first photograph.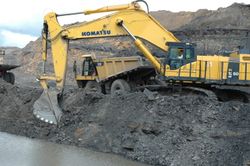 In an area dotted with shafts from earlier deep mining a Komatsu PC1250 SP (left) was loading a Cat 77F with overburden.
In the late afternoon we hurried off to another mine. At least, we hurried until the sat nav led us a mile up this blind alley.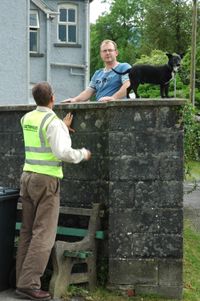 Never mind, the dog pointed the way.
(Continued in the blog of 28 June.) Full details of the DVDs are in the blog of 9 September